Sample Forms
INTRODUCTORY MATERIALS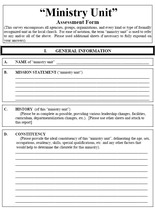 A MINISTRY UNIT UNIT ASSESSMENT FORM is available for every element in the church.  A Ministry Unit  is any single entity whose function is geared to one specific sphere of action and/or activity, and encompasses all those involved in the fulfillment of one common goal.  This unit often functions under the direction and leadership of one centralized superintendent or director, often displaying a variety of departmentalized divisions (e. g., age, grade, gender, interest).
     This concept may be as broadly defined as a large unit like the "Sunday School" or as narrowly viewed as one single individual ministering in a one-on-one encounter such as "counseling".  It includes the entire gamut of agencies, organized groups, clubs, individual classes, etc., and may be applied to such concepts as auxiliary enterprises and ancillary functions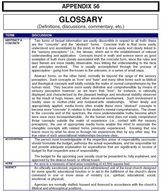 GLOSSARY
     A glossary especially designed for this study is provided with definitions and commentary suited for evaluation.  This section should be kept handy for quick reference.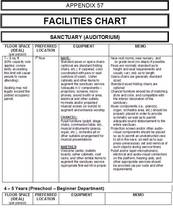 A FACILITIES CHART, outlining standards and norms for various elements of the church facility, is included.  This section should be kept handy for quick reference.
GRAPHS & CHARTS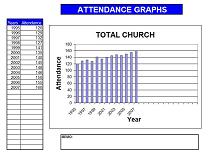 ATTENDANCE GRAPHS are available for graphing the various functional units relative to the major areas of ministry.  These are available for graphing each and every ministry unit (and any sub-groupings) in the entire church.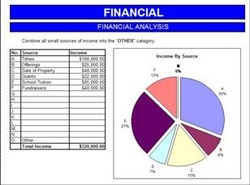 FINANCIAL STEWARDSHIP charts and graphs are available for evaluating actual income, expenses, giving potential, financial stability, and the value of current assets in order to assure greater solvency for the ministry.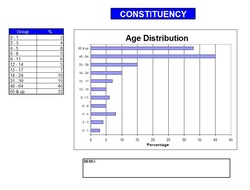 CONSTITUENCY FORMS
Forms are  available for recording current members and attendees as well as the "potential" of the community.  Proper compilation and charting of such factors as age, gender, occupation, income ranges and residency provfide vital statistical materials which can be useful in more accurate and efficient future planning.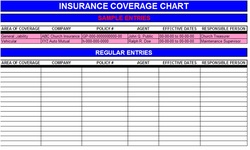 MISCELLANEOUS INFORMATION
Miscellaneous forms, charts, graphs and other helps abound.  Additional elements,  including registries, inventory lists, history of the church, classroom observation form, board and committee composition forms, curriculum usage charts, and numerous others, help round out this study.